You need to complete your PhotoMovie TODAY.  Once you complete your PhotoMovie you need to add it to your A Lesson Before Dying page.  You will need to get the embed code and then paste it into a HTML box.
A Lesson Before Dying
You should be on chapter 22 (at least) by now. Today you will receive questions for Chapters 19-25. Have them completed and be ready to discuss by Friday.
ePortfolio
By now you should have several pages (Home, A Lesson Before Dying, Writing Samples & Mini Research) and a blog. If you have not added these pages you will need to do so today. Click add page and add blog from the Pages tab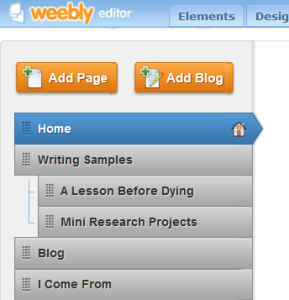 Some of you have nothing on your ePortfolio and you need to change that. Here is an example of what your A Lesson Before Dying Page should look like.